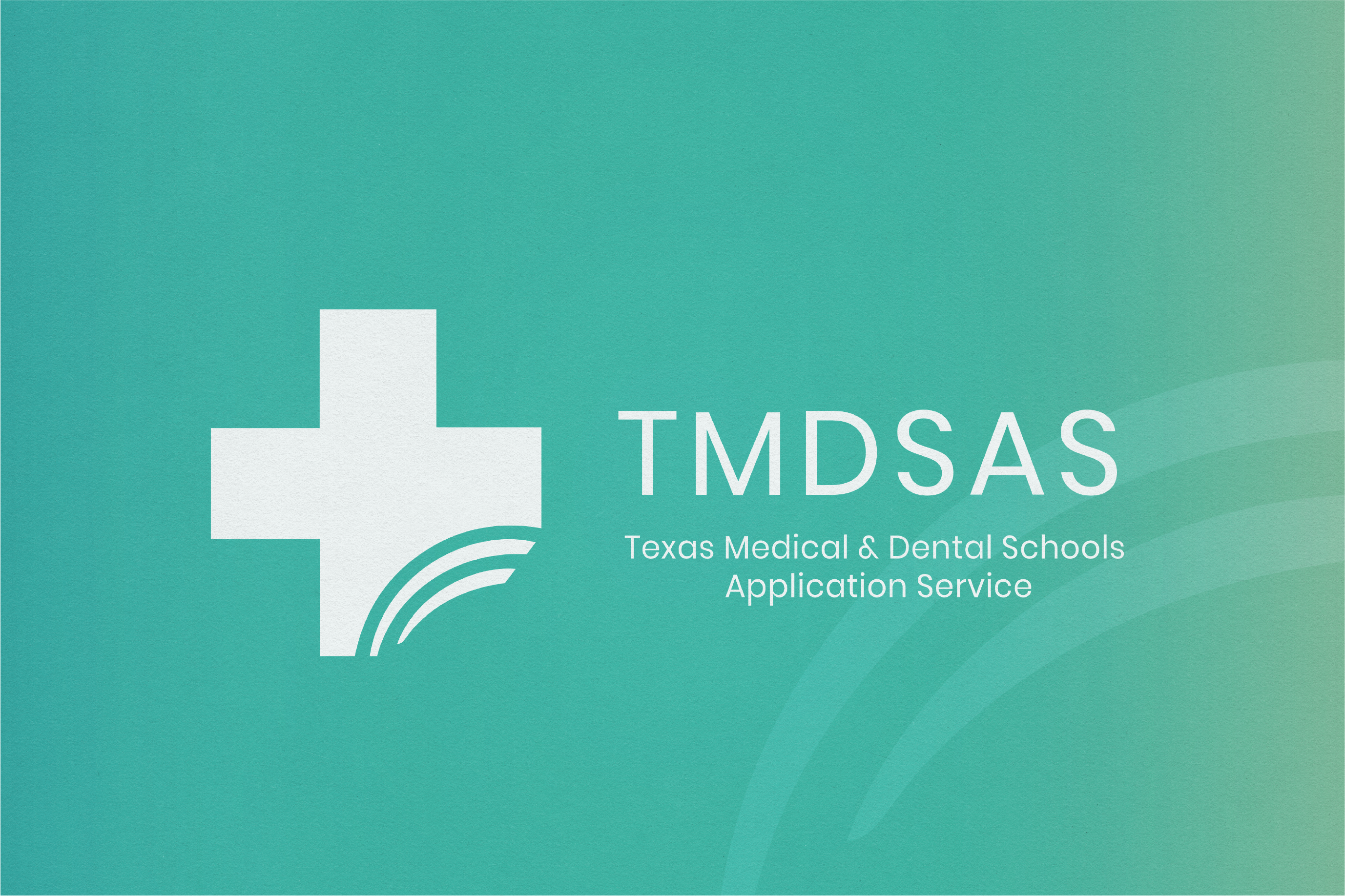 EY 2022 TMDSAS Applications by the Numbers - August 1
Take a look at how Entry Year 2022 compares to other application cycles. All numbers below represent applications started and submitted as of August 1, 2021 and on the same date for each application cycle represented.
---
All Applicants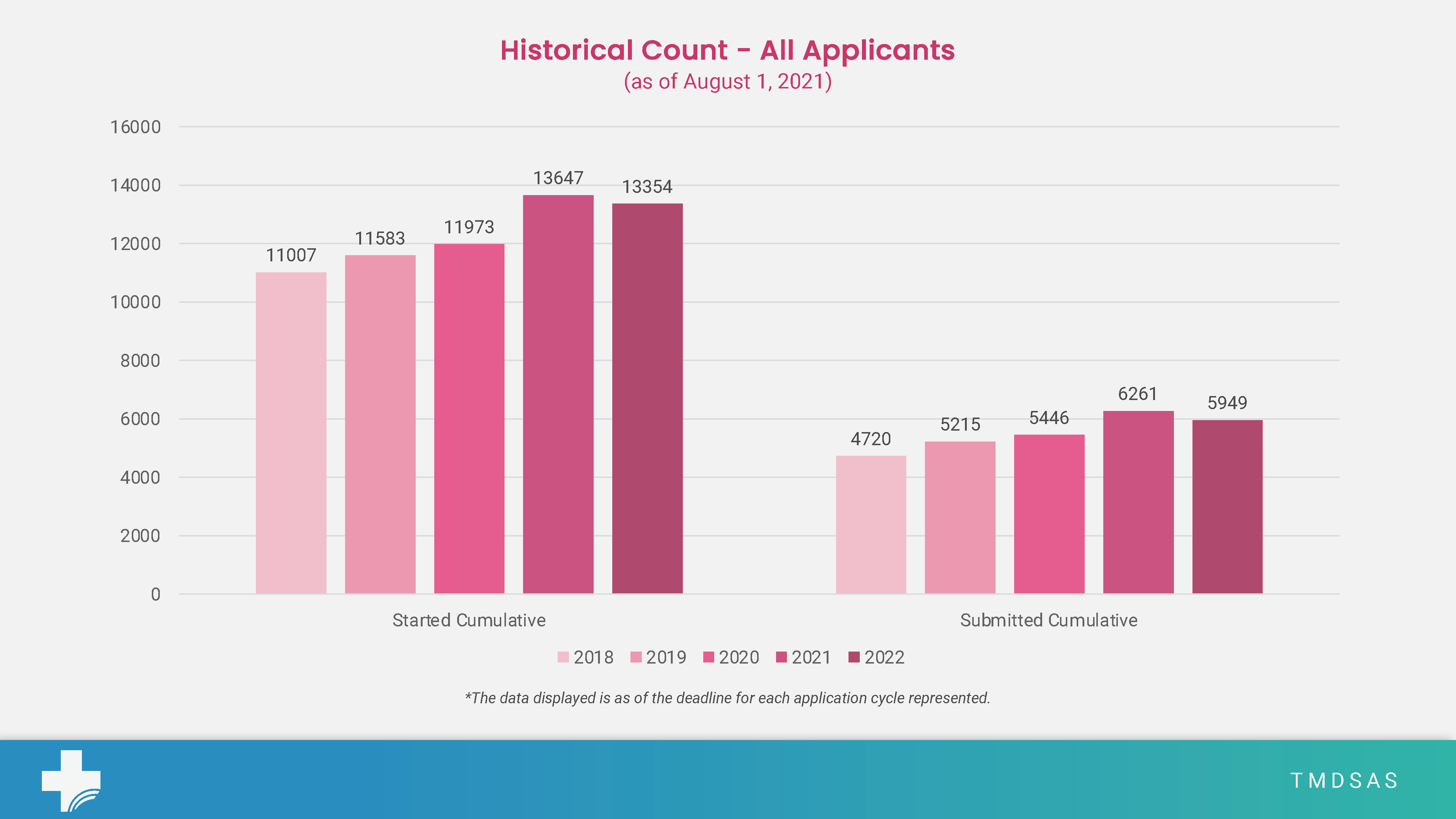 Throughout the last month, 1414 applicants has started a new TMDSAS application, which is 293 fewer applicants than the same time last year.

When it comes to submitted applicants, there are 312 fewer total applications than the same time last year. However, over the past month, 1510 applicants have submitted their applications. Below, we break down how each applicant type is driving these numbers.



Dental Applicants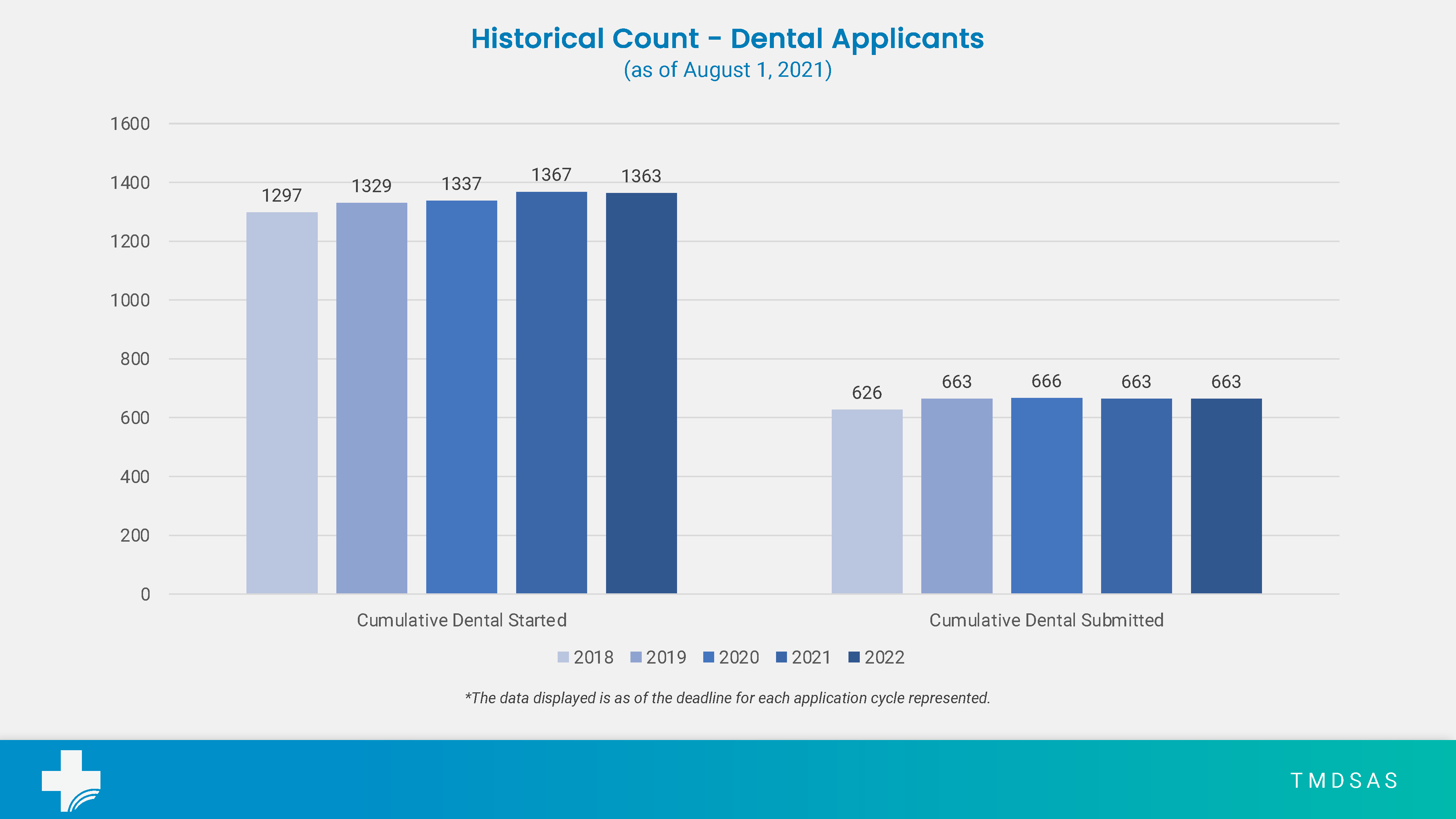 Since July, 139 dental applicants have started their TMDSAS application and 255 have submitted for a total of 663 total dental applications submitted so far this application cycle. This is on par with last application cycle.

Dental applications have remained very consistent over a 5-year trend when compared to medical and veterinary applicants, but with three months left in the application cycle, there is still time for applicants to submit.

Medical Applicants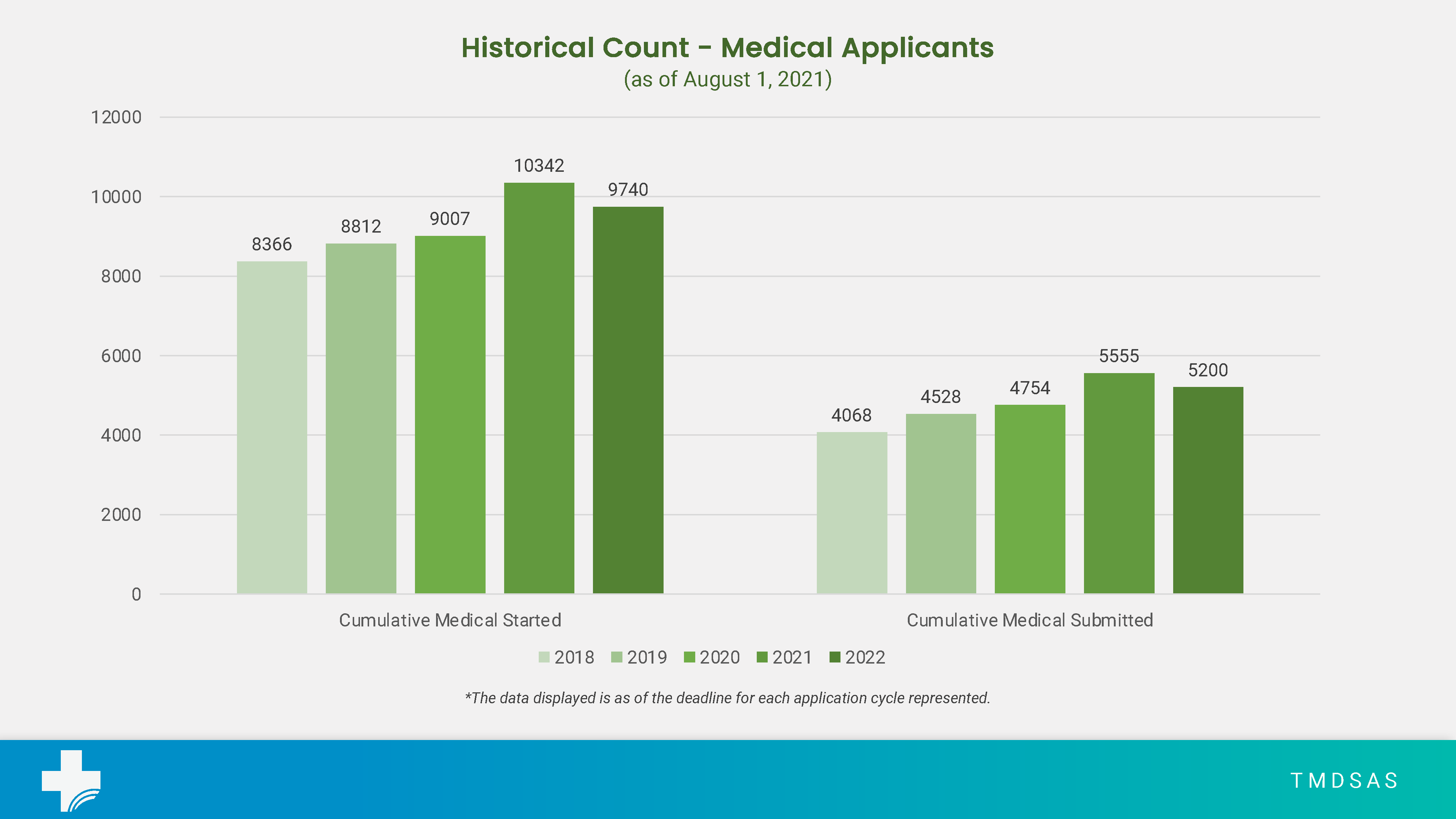 While year over year growth in the medical applicant pool has decreased by 602 applications started and 355 applications submitted over the same time last year, this last month saw significant growth.

Over the past month, 898 more medical applications have been started and 1213 applications have been submitted. With 5200 medical applications submitted this cycle, we are only 893 away from the 6093 applications submitted in EY 2020 with three months left in the application cycle.

Veterinary Applicants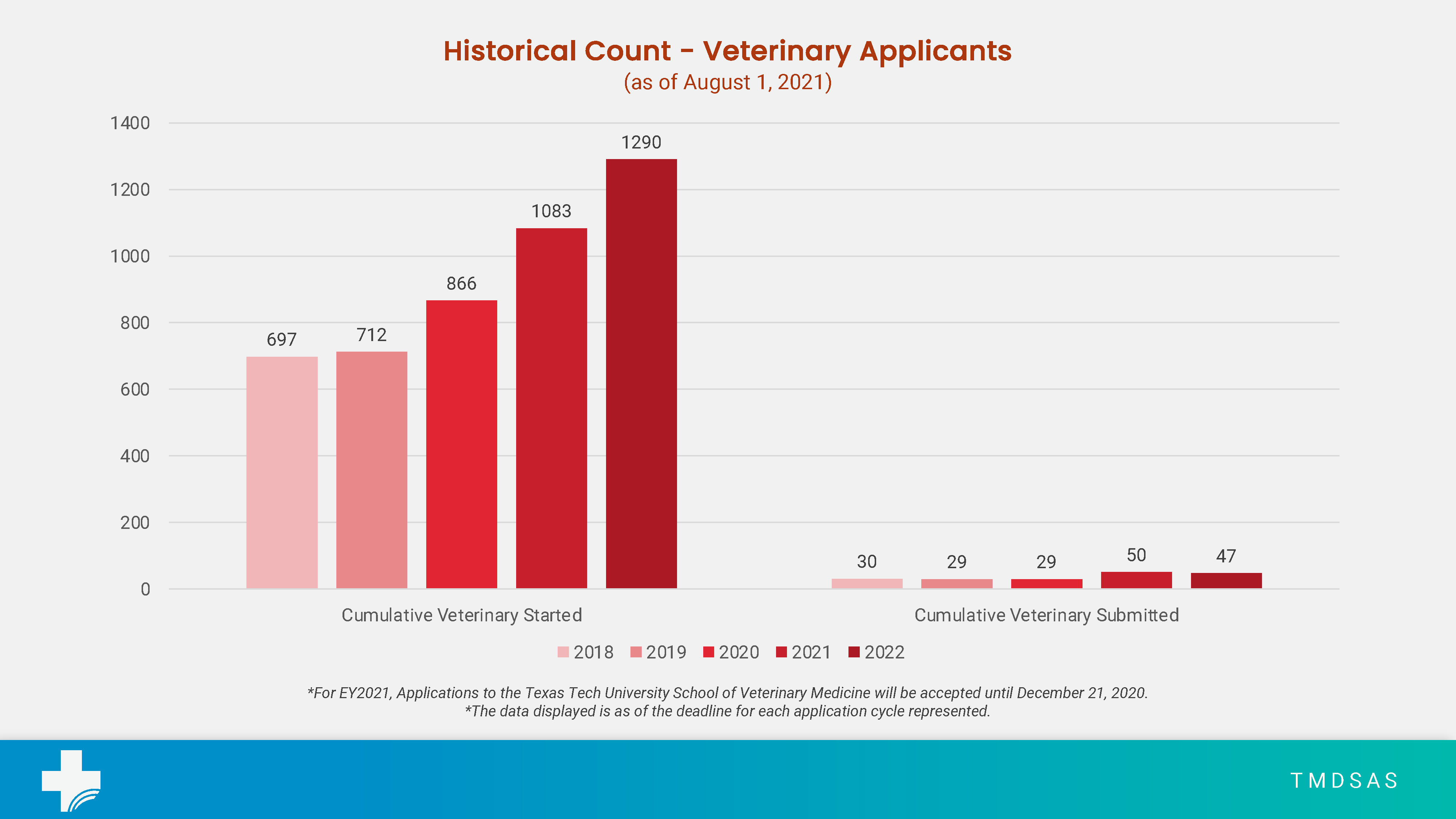 939
16
Veterinary applicants face a different timeline and this is reflected in the distribution of applications started versus submitted. The historic growth of veterinary applications started continues to grow revealing an incredible trend over the past 3 years with 201 more applications started this year than the same time last year.

For applications submitted, this number remains close to last year's 50 with 47 applications submitted so far this cycle. This will surely increase in the coming weeks as the veterinary application deadline approaches.

While applications submitted appear lower for veterinary applicants at this time, don't forget that the application deadline for veterinary school this cycle is September 15!
---
View Related Items
Events
/
Office Hours
Join the TMDSAS Support team live to get your application questions answered.
JAMP
/
Pre-Med
College can be filled with stress, and not knowing how or when to start your JAMP application might seem overwhelming. But don't fret! Following these useful tips will help you to get the most out of your application.
Events
/
TTUHSC SOM
The Texas Tech University Health Sciences Center School of Medicine will be hosting an Applicant Seminar. This Fall seminar will be hosted virtually and is free to attend!